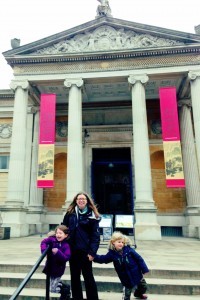 I started this blog two years ago; I was in a very different place then, my little boy was just in nursery and my little girl settled in foundation. It was time for me to start thinking about getting back into the workplace in a way that would help me balance supporting the children with consolidating my years of corporate experience in online strategy and delivery.
In the gap of my second maternity leave, social media had exploded, and there were lots of new subject areas to explore and new ways of reaching out to customers and potential clients. Being the person I am, I wanted to try these things out for myself, and started working out what would best support my efforts and the direction I thought I was heading.
Two years on and much has changed again; I have had some successes with balancing work and family, some not so successful. I still feel I have a lot to learn and this holds me back from more doing as there is a continual stream of new things to absorb and distract. The focus of this blog has certainly changed from my first post – Wading in – and has become increasingly diluted over the last couple of months as I have tried to shift its direction while still committing to regular posts.
My husband and I work together in a marketing services business which has allowed us the flexibility to support the children as a couple, and has allowed us both to spend some fantastic (as well as some frustrating ) times with them as they have grown into the very special young people they are becoming.
With time at a premium and increasingly precious in my son's last few months as a pre-schooler, and with a view on September when he will start school and free up a more consistent amount of time for me, this blog's second birthday seems to be an appropriate time to stop for a while and take stock.
It's a hard decision, and I have thought about the momentum I have built and the new contacts and readers I have made which are all of great value to me, but I am finding it too tricky to think big-time changes at the same time as continuing business-as-usual.
So I am taking a deep breath, recognising how much I have learnt and how valuable this journey has been for me, whilst also accepting that I need to push myself harder and jump back in with a more focused and more targeted blog once I have stepped back and re-evaluated how I am spending my limited time.
I want to thank you all for the words of encouragement and support that you have offered, and thank you for reading and sharing my content over the last 200+ blog posts. I hope you will come back and join me when I step back in and offer up sarahwoodonline 2.0 in the next couple of months.
In the meantime you can find me still on Twitter as @SarahWood7 where I tweet a mixture of technology news, parent and book-related information as I find it interesting – please follow me there.
Thanks again for reading, stay tuned, and look out for the next chapter.