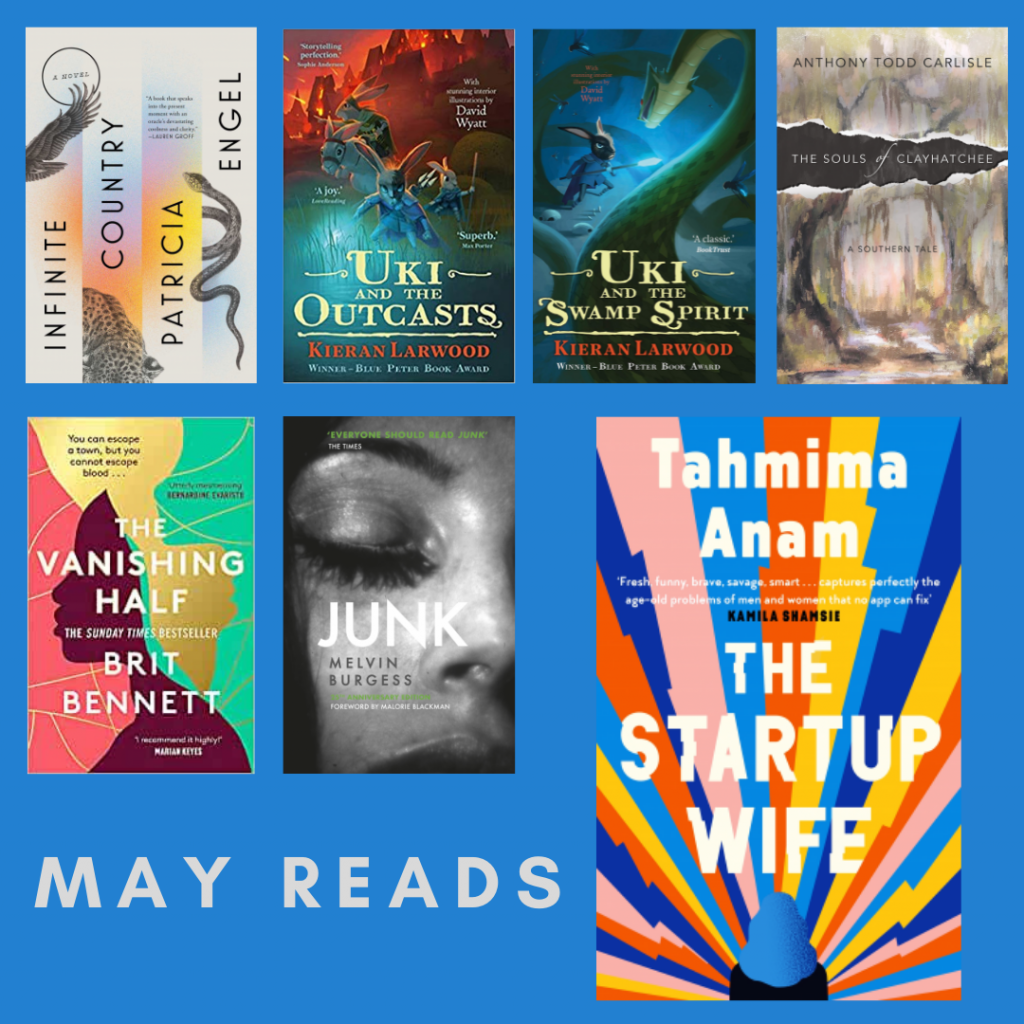 Books I read in May 2021
The Vanishing Half, Brit Bennett
5 stars
Insightful and empathetic, the book weaves the story of twins who are split apart by circumstances and who live their lives one white, one black as they find themselves far away from their beginnings. The book covers so much ground, has many characters in disguise and hiding their origins, that it opens up questions of choice, family and belonging. Love the fact the book is totally non-judgemental, bringing different characters to the fore to touch on but not to define the reasons for their actions and reactions.

It's a book that highlights many issues, covers some better than others, but has the same gentle touch of respect and restraint that is inspirational.
The Startup Wife, Tahmima Anam
4 stars
This is a lovely light read, a funny and clever and life-affirming read in the face of apocalypse. Asha meets Cyrus, unrequited crush from school, and straight away quits her PhD thesis to start an exciting new venture, along with Cyrus's friend Jules. Along the way we see the power balance between the three shift and change, and as their success grows they question whether all the effort and the thrills of start up life is worth fighting for.
Some super insights into women in tech, working with close friends and family, and the excitement of doing what you love all the time, with all the highs and sometime frightening lows.
Infinite Country, Patricia Engel
4 stars
The moving story of a family fractured by migration, as the members of a family are scattered between the US and Colombia due to migration, deportation and different citizenship status.
This is a delicate and well-told tale of family, belonging and displacement, mixing the realities of life in Colombia and the US with the older ties of ancestors and myths. Told from the viewpoint of one daughter who is living without papers in the US, the novel looks at how all the family are affected over time, from the fierce grandmother to the child with US citizenship brought up in Colombia who goes home to a foreign country age 15.
It's a very subtle and thought-provoking story that examines the impact of migration on all members of the family and offers hope for a better and more united future.
Uki and the Outcasts and Uki and the Swamp Spirit, Kieran Harwood
4 stars
These are two lovely stories in a series I've carried on reading even though the children have grown out of them. The stories follow on from the Podkin One Ear stories and are full of fantastical adventures within adventures, with a whole dangerous rabbit world imagined and in need of saving from demons.
The Souls of Clayhatchee, Anthony Todd Carlisle
4 stars
"When James reluctantly agrees to his mother's last wish to be buried in her hometown of Clayhatchee, Alabama, his notions about southern relatives are turned upside down as he makes long-hidden discoveries about his parents. His father did not migrate north, he escaped. His mother kept an even deeper secret, one of rage and beauty." A very satisfying read. This is a deftly told story that covers a lot of social history through the lens of a particular family, giving a considered view of a black family split apart and ultimately brought back together through family secrets, loyalty and love.
Junk, Melvin Burgess
4 stars
This is an intriguing book, that may have shocked 25 years ago but now seems quite  nostalgic for a different world we live in. The writing still has the power to shock, from the innocence of Gemma's arrival with Tar and their slow but inevitable corruption in the squats of Bristol, to the unresolved and uncertain endings for many of the characters,
A hard read, but also an important one in getting across an authentic message about the dangers of drugs, drink and families.