I had an amazing day in London yesterday at the 2018 Young Enterprise Tenner Challenge. Treated to a tour of the Bank of England, lunch and an inspiring awards ceremony, this was the culmination of some serious effort and inspiration.
I was only a member of the support team however. My dynamo of a daughter was the driver behind a project which started when she brought home a leaflet from school, which detailed what she needed to do to enter the Tenner Challenge.
Over four weeks, Caitlin set up a business with £10 capital, and she had to come up with an idea, establish a sales plan, and find ways to sell and distribute her product. She had the opportunity to be interviewed by local business people. With great support from her school, she ran with the idea to create a product that means a great deal to her. She has had an incredible impact on others.
Buddy in a Box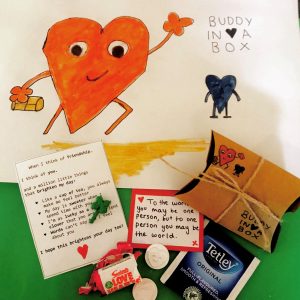 Caitlin's product is aimed at tweens and teens who have friends and want to show they care. The box of  goodies is designed to promote happiness and good feelings as it demonstrates that friendship matters.
Caitlin promoted the product at school and with my help on social media, with some good engagement on Facebook and Instagram.
The reaction of people who have seen or received a box has been inspiring. We have had people buy two boxes, one for a friend and one for Caitlin to give to someone who might need a box themselves. The box seems to inspire
Caitlin is donating all her profits to charity, as she supports Rosie's Rainbow Fund, a charity that supports sick and disabled children and their families in hospital, school and the community.
You can take a look at Caitlin's sales pitch video, where she explains what Buddy is about much better than I could. A great advert already and a valuable member of the family business.
Young Enterprise
Caitlin learned so much about what it takes to set up a business. She took the Young Enterprise support on offer and was inspired by working alongside her peers at school and other teams taking the challenge.
As a parent privileged to accompany Caitlin to the award ceremony, what struck me was the energy, optimism and creativity in the room. The winning teams had a common a view to a better future. Sustainable and community-focused groups took the prizes. They can show us the way forward to running winning businesses that also bring good to the world.
You can see the list of this year's winners on the Tenner Challenge website, and also details of how you, your pupils or your children could take part next year. This is a great challenge which looks set to foster the next generation of entrepreneurs, judging by the talent that was in the room yesterday. Long may it continue.