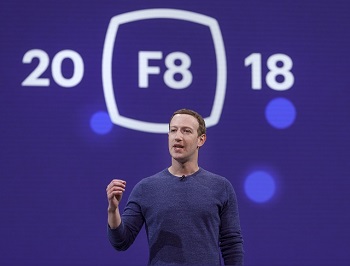 Facebook's annual F8 developer conference has been more closely watched than ever this week, with the Internet giant under fire for data privacy breaches, political involvement and sharing of hate speech.
In the current climate of mistrust and high profile discomfort, what would be the focus on the conference's usual agenda of product and feature announcements.
And what will the new announcements mean for business owners and customers?
Top Six Facebook announcements
If you are eBay, Snapchat or Tinder, you may well be wondering if Facebook's new approaches are a real threat. Certainly Tinder's parent company Match Corp's share price fell 22% at the news Facebook was getting into dating.
Other changes looked at data privacy, virtual reality and AI, with a mix of land grab towards apps like Snapchat andTtwitter and a defensive position against criticisms of bullying. Add in some cool new features that will enhance the current platform.
Clear history
This new privacy feature climbed up the announcement list. It allows users to delete data that Facebook has collected from apps and sites and holds on you. It will remove some of the information, but it far from the whole picture.  Read Facebook's clear history announcement details.
Upvotes and downvotes and hate speech
This feature, similar to that used on Reddit, allows people to grade comments on a post and so move them up or down the priority list. It is designed to help Facebook users self-regulate offensive comments. It is to make sure that the comments most relevant to a post are seen first.
Along with this self-regulation, Facebook revealed the amount of Artificial Intelligence they are using to flag hate speech on the platform as an efficient way to patrol the site for offensive content. Facebook does recognise that it can't rely on AI alone. By the end of the year 20,000 real people will also be working on protecting the platform's integrity.
Instagram video chat, watch party and anti-bullying measures
Video chat comes to Instagram and  Whatsapp, which is a big threat to Snapchat. The watch party feature on Instagram, where you can video chat with friends and comment on videos at the same time, is an attempt to tap into the success of Twitter as an accompaniment to TV viewing. The addition of anti-bullying filters and the promise to protect users from bullying comments may be an additional draw to younger users that have already left Facebook itself.
Messenger makeover and marketplace
The messenger details were well-received, with promised decluttering and focus away from games and camera. Focus will now be on communication – with promised direct translation aiming to break down language barriers. The recently launched marketplace now boasts 800M views since last year. It remains a focus, and augmented reality is set to make marketplace more interactive still.
Dating
With Facebook noticeably not announcing a smart home device, possibly due to such public privacy concerns, it seems a strange time to launch an app focusing on that most private of relationships. But Face dating is the app that has had most of the press from F8 this year. There are 200 million people on Facebook who list themselves as single, so this is an area ripe for mining. Promises at this stage insist that this is an opt-in service that won't share information with the main app, and that messages are only text-based to make contact.
Virtual reality
Facebook launched its standalone Oculus Go headset, priced at $199, and gave one to all audience members at the conference. They also showcased Oculus TV, which puts users in a virtual living room to watch tv shows for selected networks. Again this is trying to make connections between people the main driver for using new technology, as the company experiments with bringing virtual reality fully into the mainstream.
Facebook's quest to take over the internet
The newsfeed loses its central position as Facebook tries to pull in all the things people are actually wanting to use. Video chat, watching videos with friends, and simple and effective messaging tools take priority.
Groups, a very well-used section, has its own page and place in the navigation. Changes all support genuine  interaction with others as a priority. Facebook continues to absorb the best bits of popular apps as it either buys rivals or emulates their features. And you have to wonder if we are watching the next episode of Facebook's quest to take over the internet from the inside out.
More and more of these apps will give users less reason to leave Facebook to get their fix. Are we ready for a world view that comes courtesy of a company that has shown itself to be untrustworthy and unclear on the hows and the whats of data it keeps about individuals? Not to mention the impact it can have on nation states and political outcomes? Only this week Zuckerberg turned down – for the third time -the UK parliament's request to answer questions on Facebook's role in the Brexit referendum.
What do you think are the most important of Facebook's 2018 announcements? Where do you see the opportunity for your business and what excites you? I would love to here from you in the comments below, or get in touch to talk through how we can help you make the most of new online opportunities.