To save time in creating content and to be effective in telling your whole story coherently over time, you will need to run an effective editorial calendar.
Sitting down each day and spending time thinking about what to write before you start, can be very ineffective, and time spent upfront in planning will pay off later when content creation becomes a smooth part of a well-worn process.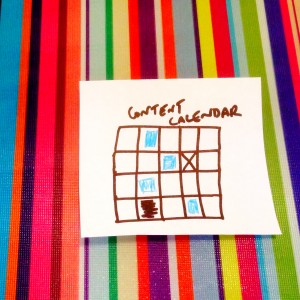 A good calendar will give you a coherent overview of your activities, it will easily let you see the gaps in your plans, and it will be simple to maintain – there is no point having a calendar that takes all day to update.
By mapping out your content over time you will able to keep your high-level overview intact, and lessen the risk of getting lost in the detail.
Take a look at these 13 tips below and see how they can help you set up and run an effective editorial calendar:
Establishing an effective editorial calendar
Before you start, define your goals for the calendar, to tie in with your overall content and business goals. Tie this in to how many people are involved in the content creation and publication, and how many interested stakeholders there might be


Know your target audience, and know what action you want that audience to take as a result of each piece of content.


Map out your content against key dates in your calendar such as trade shows, relevant events, product launches etc, identify key themes you want to cover over the next few months, and ensure that there is time and resource available to create the necessary content.


Set clear content goals and measure your progress towards them.


Try to balance a mixture of evergreen content that will continue to be relevant over a long period of time, with more time-critical and news-related articles.


Identify a primary channel for content release, and also secondary channels where the same content can be repurposed and retargeted to get further mileage form the content.


Establish an overall content narrative into which your individual content pieces will fit in order to offer a seamless and ongoing story for your audience.


Keep to your priorities and ensure that each piece of content is meeting a core need for your business and for your audience. This will lessen the opportunity to become sidetracked or diverted along the way.


Assign tasks to specific people and ensure they are aware of any dates they need to commit to.


Appoint an owner who is responsible for the overall delivery of the content plan, but also be sure to involve stakeholders in regular status updates.


Keep your content plan modular, but cohesive, with content targeted to support your audience's journey.


Your calendar will work best alongside an ideas tracker and a demand generation management sheet, which will also ensure accountability, resource allocation and a realistic publishing schedule.


Above all, make your calendar a flexible living document. This way it will become an invaluable tool in managing your content workload whilst minimising the effort needed to keep on producing quality content to support your business.


Use these tips to keep clear sight of your goals and to ensure that all your content is working hard to support your business and to make a commercial difference to you. If you don't know where to start, or feel overwhelmed at the thought of creating a calendar, please get in touch and see how we can help you to set up an efficient and effective editorial calendar that will work for your business.